Buttery, crisp flour tortillas wrapped around melted cheese, fajita veggies, and tender seasoned chicken make these Oven Quesadillas extra amazing and the kind of meal that makes families come running to the dinner table. Easy prep and no standing over a frying pan or griddle flipping quesadillas make these sheet pan chicken quesadillas a weeknight winner for sure!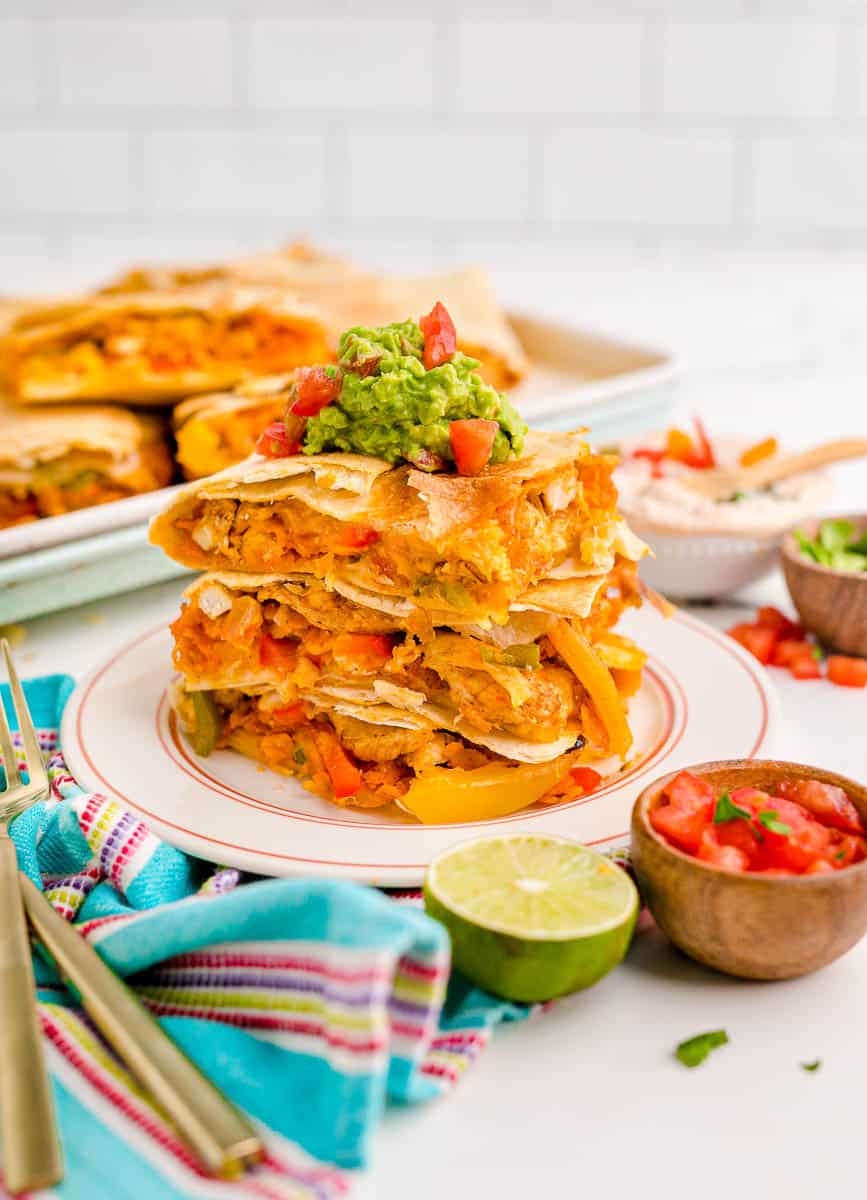 Loaded quesadillas are a fantastic dinner idea because everybody loves them! But there are nights when you don't want to stand over the griddle or stove assembling and flipping enough quesadillas to feed an army. That's where these baked oven quesadillas come in.
Make-ahead friendly. You can cook the filling in advance and even freeze to take that part off your plate. Then when you need to assemble and bake, it only takes about 30 minutes for the tortillas to get crispy and the cheese and filling to get all hot and melty.
Healthy(ish) and wholesome. Not only are these loaded with great protein and loads of veggies that kids actually love, we're cutting back on the butter or oil typically used to crisp up the outside of tortillas when they are cooked on a griddle. Instead, the oven does the job of crisping up the tortillas.
Serves a crowd. One tray of these easily serves 6-8 hungry family members, and you can always double up if your kids have friends over. Leftovers reheat pretty well too the next day if you end up with more than you needed.
Recipe Ingredients
Here's a list of what you'll need to make this oven quesadillas recipe. See the printable recipe card below for exact amounts and full instructions.
Chicken: We use chicken breasts here because it's what we always have on hand, but thighs work just as well. You could also use leftover cooked chicken or a rotisserie chicken and save yourself some time.
Veggies: Quesadillas are a great time to add extra veggies! We love classic fajita veggies like sliced red, yellow, orange, and green bell peppers and onions, which soften and caramelize to juicy, mild perfection in the oven.
Taco seasoning: You can use the store bought kind or make our favorite homemade taco seasoning with ingredients you already have on hand.
Tortillas: For maximum coverage and the ability to hold in all the fillings, you want large flour tortillas.
Cheese: Stick with cheddar or use another melty variety like Monterey Jack, Pepper Jack or a Mexican cheese blend. Freshly grated cheese does a much better job melting here than the pre-shredded varieties.
Nacho cheese tortilla chips: We love the fun crunch and flavor of nacho cheese Doritos as part of our quesadilla filling. Other flavored tortilla chips work great here as well.
How to Make Oven Quesadillas
I'll walk you through how to make these sheet pan quesadillas from scratch, but feel free to take shortcuts like using a shredded rotisserie chicken to make life easier. Be sure to see the recipe card for full ingredients and instructions.
Prep & season the meat and veggies. Slice and peppers, onions, and chicken into bite-size pieces, then drizzle with olive oil and toss with taco seasoning.
Bake until softened. Spread all those veggies and chicken out in a single layer on a large baking sheet and cook for 25 minutes in the oven until the chicken is cooked through and the peppers and onions have softened. This can be done a few days in advance if you are into meal prepping and want to have meat and veggies ready to go for the week. It is also excellent for stuffing burritos or making salads.
Arrange tortillas. Brush or rub the bottom of a large baking sheet with melted butter, then arrange 6 large tortillas around the edges, letting them hang over the sides. Place 1 tortilla in the center to make sure the bottom of the pan is completely covered. Sprinkle with half of the shredded cheese.
Add filling. Evenly distribute half of the roasted chicken and peppers over the cheese, then sprinkle with all of the crushed nacho chips for a crunchy middle layer. Reverse the layers by adding the remaining meat and veggies, followed by the last of the cheese to finish off the quesadillas.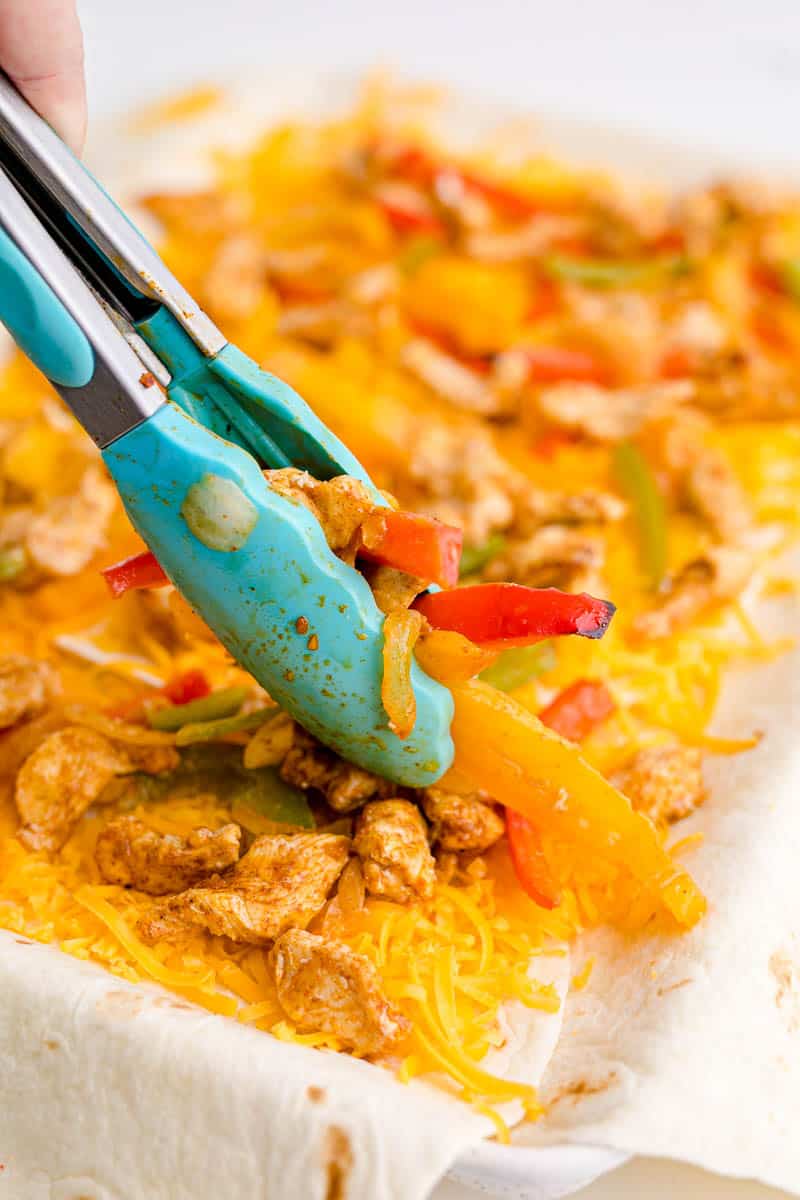 Fold over to seal. Top with the last two tortillas, then fold the bottom tortillas to fully enclose the cheesy filling. Top with a piece of parchment paper and another baking sheet to hold the tortillas down so they don't unfold while baking.
Bake. Cook the quesadillas in the oven for about 30 minutes until toasty and crisp on the outside and the filling is melted and hot on the inside. Let rest for 5 minutes before slicing into squares and serving with your favorite toppings.
Serve. We like to serve quesadillas with toppings like sour cream, guacamole, salsa or pico de gallo, or a fun dipping sauce. Round out your Mexican dinner with sides like Mexican rice and beans.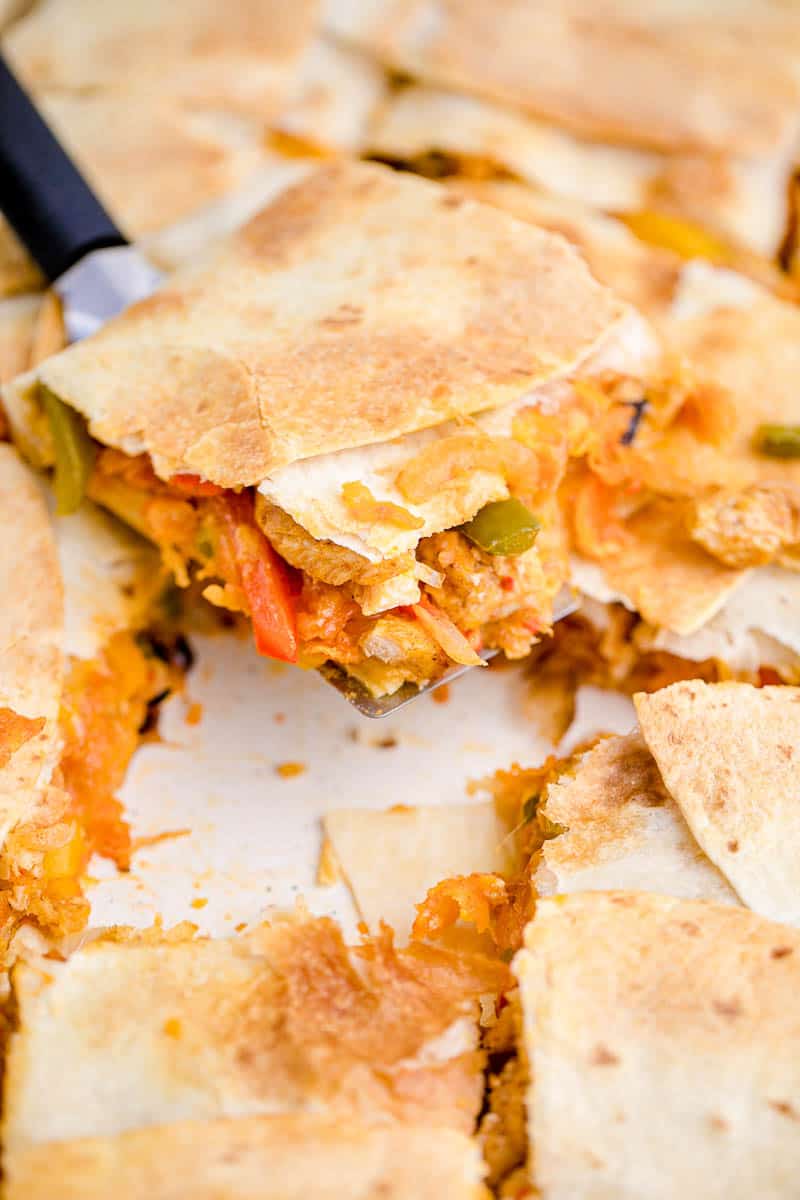 Recipe FAQ's
Can I use other fillings?
The great thing about quesadillas is you can fill them with anything you like! Swap out the chicken for ground beef taco meat or replace the protein altogether with rinsed and drained pinto or black beans.
Can I use smaller tortillas?
If you have a bunch of smaller tortillas that you would like to use up, they can definitely be used, although you will need more of them to completely cover the pan and hold the quesadillas together.
Top Tips
Crispy exterior: If the top of the quesadillas aren't getting crisp enough, try removing the top baking sheet during the last 5 minutes of baking time and spraying with cooking spray or brushing with more melted butter so they can toast up.
Discard liquid from veggies and meat: If the cooked chicken and peppers are extra juicy, make sure to discard the liquid before adding them to the quesadillas of the bottoms of the quesadillas might turn out soggy.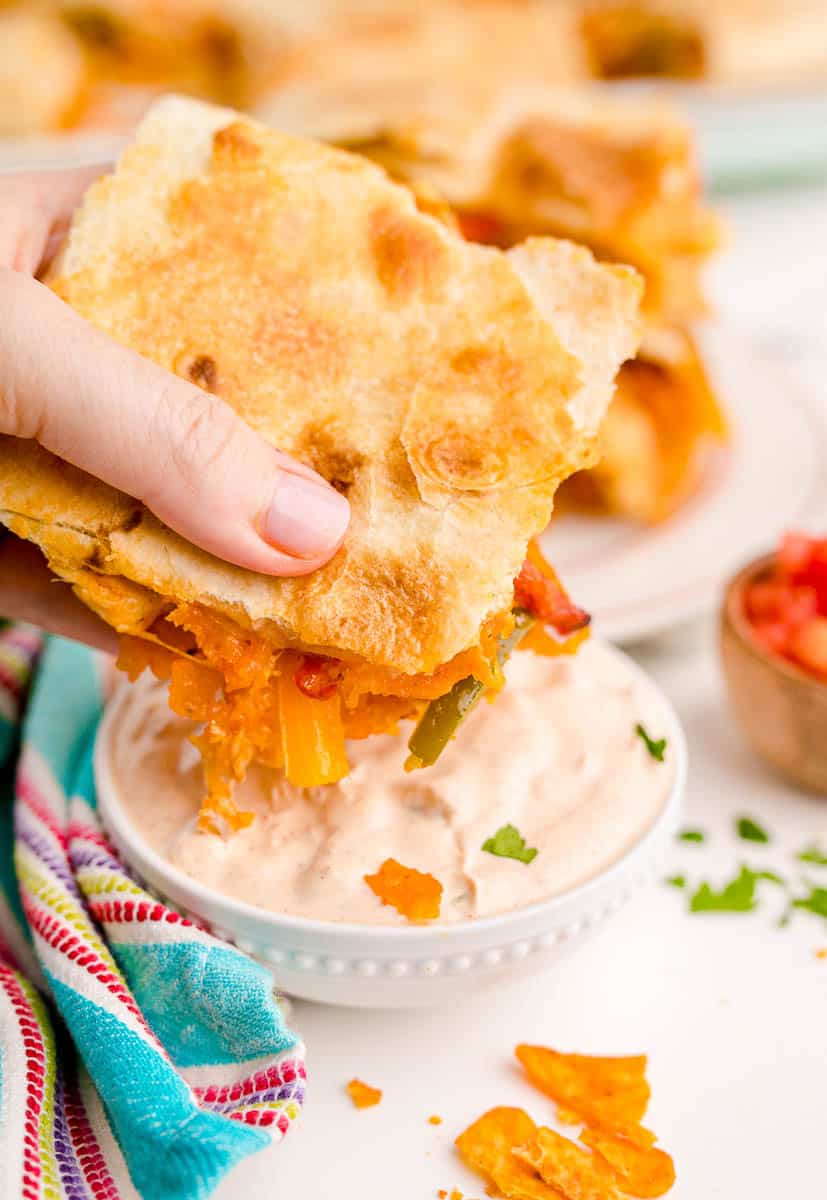 Storage & Reheating
Leftover oven quesadillas will keep for 3-4 days in the fridge in an airtight container.
The best way to reheat is these leftovers is in the oven or in the air fryer so that the outsides can crisp up. You can also use the microwave, but the quesadillas will be much softer.
Leftovers may also be frozen for up to 2 months. Let them thaw completely before baking or air frying until heated through.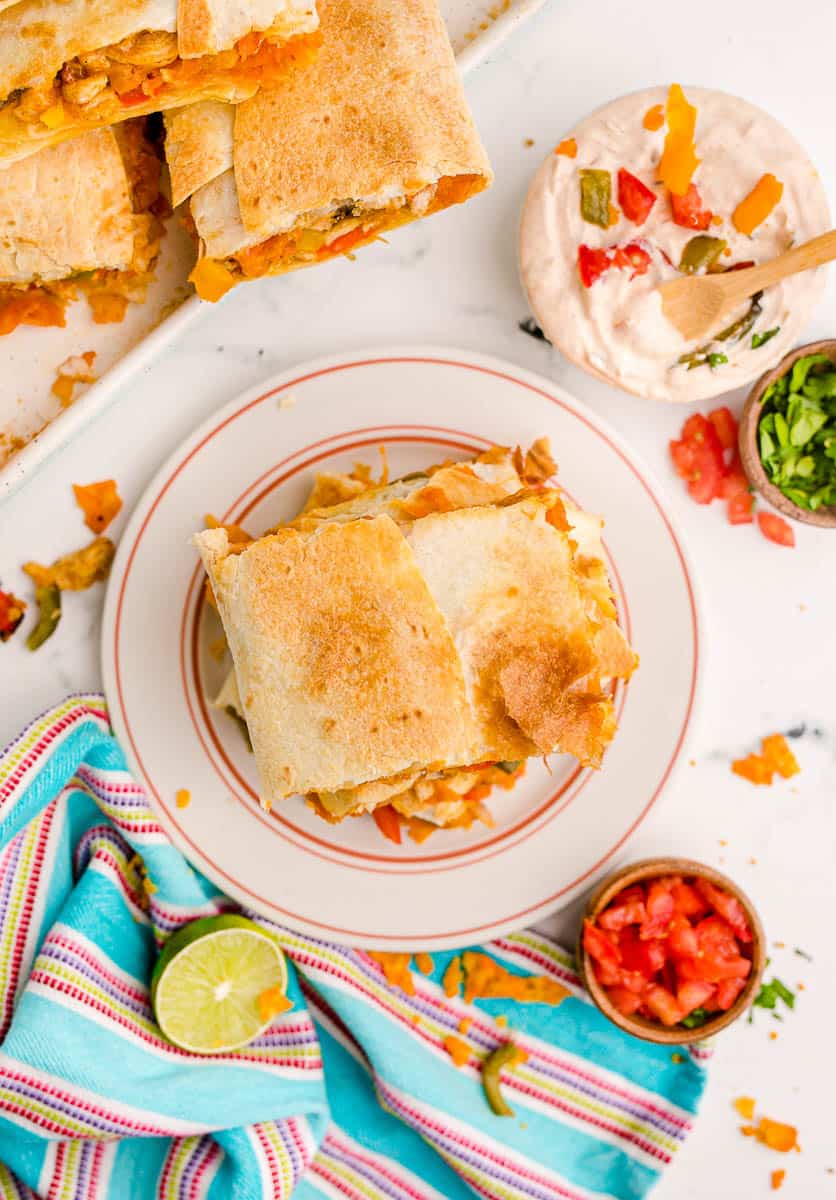 More Sheet Pan Recipes
Did you make this recipe? Leave a star rating and I'd love to hear from you in the comments below.
Sign up for my email newsletter so you don't miss any recipes.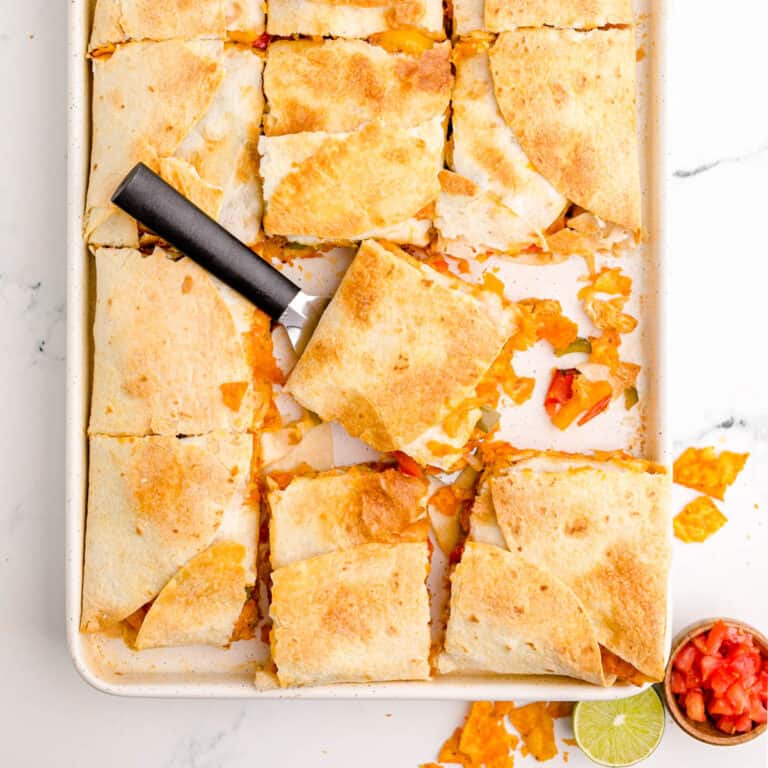 Oven Quesadillas
Buttery, crisp flour tortillas wrapped around melted cheese, fajita veggies, and tender seasoned chicken make these Oven Quesadillas extra amazing and the kind of meal that makes families come running to the dinner table. Easy prep and no standing over a frying pan or griddle flipping quesadillas make these sheet pan chicken quesadillas a weeknight winner for sure!
Print
Pin
Rate
Ingredients
1 ½

pounds

boneless, skinless chicken breasts,

sliced

2

medium onions,

sliced

4

bell peppers,

sliced (a mix of red, yellow, green, and orange)

4

Tablespoons

olive oil

2

Tablespoons

taco seasoning

9

large flour tortillas

1

Tablespoon

salted butter,

melted

3

cups

grated cheddar or Monterey Jack cheese,

or a blend

3

cups

Nacho Cheese or Cool Ranch Doritos,

slightly crushed

Salsa, pico de gallo, guacamole, shredded lettuce, chopped tomatoes, chopped cilantro, etc.,

for garnish
Instructions
Slice the chicken breasts, onions, and peppers into thin strips. Add them to a large bowl and drizzle with olive oil. Add taco seasoning and stir to coat.

Transfer the meat and vegetables to a large baking sheet and spread into an even layer. Bake for 25 minutes, then remove from oven and reduce heat to 350°F. This can be done up to 3 days in advance.

Brush melted butter evenly over another large baking sheet. Lay 1 tortilla in the center of the pan. Arrange 6 tortillas around the edges of the pan, overlapping the tortillas so that the pan is completely covered and the edges of the tortillas are hanging over the edges of the pan.

Sprinkle half of the cheese over the tortillas, then top with half of the chicken, peppers, and onions. Sprinkle all of the chips over this, then repeat with the remaining chicken and vegetable filling, followed by the remaining cheeese.

Arrange the remaining tortillas on top of the filling in the center of the pan, then fold over the tortilla flaps to enclose and completely cover all of the filling.

Place a piece of parchment paper on top of the quesadillas and top with another baking sheet to weigh it down. You may want to set a heavy skillet on top of this to prevent the tortillas from unfolding and compress the quesadillas while they bake.

Bake for 30 minutes, then remove from the oven and slice into squares. Serve with your favorite garnishes and sauce for dipping. You may want to remove the top pan during the last 5 minutes and brush the tops of the quesadillas with an additional tablespoon of melted butter or spray with cooking spray so they brown more, but it's not entirely necessary.
Notes
Creamy honey lime dipping sauce: 1 cup sour cream, ½ cup mayo, 1-2 Tablespoons taco seasoning, 2 Tablespoons fire roasted diced green chilies (drained), 1 Tablespoon honey, 1 Tablespoon fresh lime juice, ½ teaspoon garlic powder, ½ teaspoon salt. Whisk together then refrigerate until ready to serve.